WORK LAW LTD IS a full service EMPLOYMENT LAW FIRM
Regular employment law applies to all employment relationships – regardless of the circumstances that we find ourselves in. This includes anything that has been agreed to in an employment agreement. nzgovt
Unfair Dismissal
 or Unfair Dismissal is when an employee is
dismissed
from their job in a harsh, unjust or unreasonable manner. We can act on your behalf if you have been fired without the correct process. 
Just like an Employment Lawyer an Employment Advocate can attend your disciplinary meeting and represent you. This way you are sure to get the best possible outcome.  It's important to take any disciplinary meeting seriously as they can often result in dismissal.
Sometimes the reason things are going wrong at work is that it's time to part ways, it may be nobody's fault.  It can be an opportunity to negotiate.  Our employment advocates are expert at negotiating exit packages.
News
Covid 19 – Coronavirus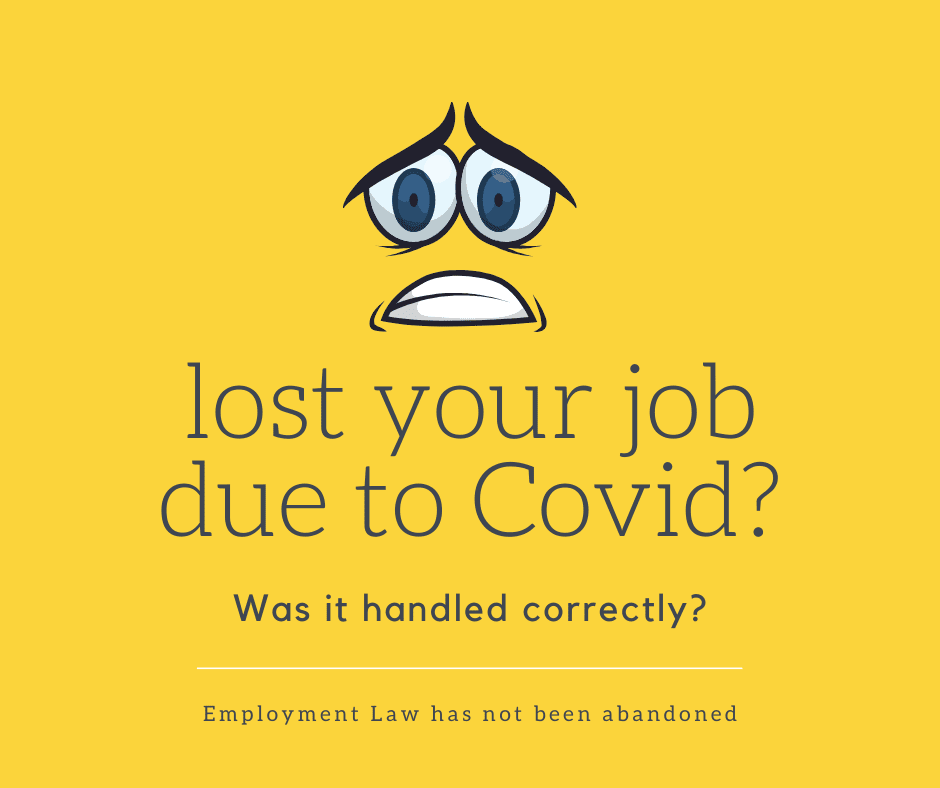 Lost your job due to Covid-19?
Regular employment law still applies – regardless of the unusual circumstances that we find ourselves in. This includes everything that has been agreed to in your employment agreement. Any changes should be agreed to in writing.
If your employer has had to close their business due to extreme financial difficulty it will be hard for us to get compensation for you even if the process has not been handled correctly. However, if the employer is continuing to do business and you think your employment rights have been breached we can check it for you.
Remember, you only have 90 days to raise a personal grievance for unfair dismissal.
Please contact us using our contact form.   Give as many details as possible, and we will see if we can help.
We Help Employees and Employers to resolve employment problems
When you engage us to act on your behalf we can often resolve the issue very quickly by discussing the issue with the other party or their lawyer.  
We will advise you of what to do next, and we can often work for you on a contingency basis / also called No Win No Fee.
"The Employment Relations Authority has made it clear that it is an employer's obligation to ensure they follow their own policies and the required legal processes, and where this does not occur an employee will always have a valid claim," 
WHAT DOES NO WIN NO FEE MEAN?
This means that when we are negotiating a settlement on your behalf we will only charge a fee if we win your case.  The exception is when we are trying to save your job and there will be no financial outcome, eg Disciplinary Meetings.
What our clients are saying
Jenifer was super supportive and validating
Jenifer and the work law team were great. They were super supportive and validating through the stressful process and represented me justly. Thank you.
Response from No Win No Fee
Thank you for the great feedback. We are very pleased we could assist you with your employment law issues. All the best, from Jenifer and the Work Law team.
CONTACT US FOR A FREE CASE EVALUATION

You can trust us to listen
Statistics prove that legal representation for employees  by an employment lawyer or employment law advocate improves your chance of a successful outcome.
You have nothing to lose by having a free consultation with an Employment Law Advocate.
You can email us using the form below.   When you receive the automated reply to your email please reply and attach any correspondence you have received from your employer.