Work Law = Employment Law;
We are Employment Advocates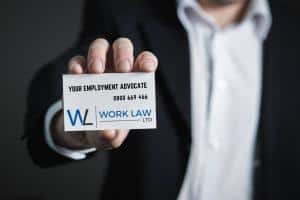 Work Law Ltd is a group of Employment Law Specialists.

Our Employment Advocates are either qualified legal professionals or human resources experts.  The difference is that we are able to provide our services on a No Win No Fee basis.   We strive to be the best Employment Law Advocates in NZ by holding ourselves to the highest standards possible.
What is an Employment Advocate?
We know employment law like the back of our hands. We perform a similar role to employment lawyers but we can offer our services on a no win no fee basis. We can defend you in your workplace and all the way to the employment court if necessary.  Employment Advocates either hold law degrees or HR qualifications.
Our Employment Advocates are ALL specialists in Employment Law, which means we are fully equipped to help with any Employment Relationship Problem you are facing.
Why do we do this?

Ask anyone on our team why they do this and they'll tell you they love to help people.
We also enjoy the puzzle of working out all the facts and putting them back together in a logical and legal manner and standing up for the rights of people who are unable to stand up for themselves.
But Most Of All:  We get great satisfaction from turning around a client's situation from being desperate, quite often in tears and unwell from stress to come out the other end of it satisfied that they got a fair deal, able to move on with their life and work and put it all behind them.
Who We Work For
We believe that everyone deserves access to justice.  This means if you can't afford a lawyer but need support with a workplace issue we will do our best to help you.
This means that we will only charge a fee if we are successful in obtaining a financial settlement for you in addition to other terms of the settlement, e.g. written apology and reference.
But sometimes we charge an hourly rate:
*Where we assist with disciplinary and other meetings that achieve a non-financial settlement, such as job reinstatement, we charge an agreed hourly rate.  We will inform you before we start work if your work will be on a No Win No Fee basis or hourly rate.
How does it work?
When You Contact Us We will:
Assess your situation over the phone for free.
Help you make a decision about pursuing the matter with your employer (or former employer).
Refer you to someone who can help you. Either someone in our team will take your case and you will be put in touch with your employment advocate within 24 hours, or we may occasionally ask you to speak to your employer again or refer you to another service if we are not the right people to help.
Don't Hesitate …

You have 90 days from the date your unfair dismissal or employment problem occurred (or the date you became aware of the employment problem) to lodge a personal grievance.
Free phone or email consultation
We stress the importance of consulting an employment advocate as soon as possible to allow sufficient preparation time to raise the personal grievance on your behalf. Contact us via our contact form, complete all your details and our consultant will assign your case to a qualified employment advocate.
We are also able to advise on recent developments in the Employment Relations Act particularly the new 90 day trial period employment law provisions.
Our Employment Advocates Have The Solution To Your Employment Issue. Call us on 0800 NO WIN NO FEE or email us using the contact form below:
---
What our clients are saying
Andrea is reassuring, friendly and professional
27 May 2022
From the moment we contacted Worklaw we recieved prompt, reassuring, friendly and professional advice. Our mediator Andrea kept us up to date with the whole process and gave us much needed advice all the way through, helping us achieve a good outcome. We would absolutely recomend their services
Sandy was excellent!
23 May 2022
Sandy was a light at the end of the tunnel and a rock when I needed help with a difficult employment situation. She really listened and gave quick excellent invaluable professional advice. Her empathy, guidance and expert advice helped quickly put me at ease, gave me confidence and a sense of direction on moving forward. She was always there whenever I needed it and I have enormous respect for her. Thank you Sandy, your help is very much appreciated. You have gone above and beyond my expectations and I cannot thank you enough for everything you did. I highly recommend Sandy for any employment related issues.
CONTACT US FOR A FREE CASE EVALUATION

LET'S GET LEGAL
Statistics prove that legal representation improves your chance of a successful outcome. Don't hesitate, you have nothing to lose by having a free chat with one of our experts.
You can Call us or Email Us using the phone number or the form below.