BULLYING AT WORK
Bullying is a health and safety issue!  If your workplace has become unsafe because of bullying you are not helpless.
If your workplace has become unsafe because of Bullying and harassment by your bosses or co-workers you can do something about it.
Bullying and harassment can take many forms including abuse, overload of work and unreasonable expectations in performance of duties. You should approach your immediate superior in the first instance to complain and see if the problem can be fixed. If after several such requests the problem is not fixed you can take a grievance.
You may raise a grievance under different statutes depending on the nature of the bullying or harassment. We can help you at the outset to try and resolve your problem and we can help you with your grievance and subsequent progress towards a solution.
Bullying is hard to prove. Just because you feel bullied it doesn't mean you have a case, but just because it is hard to prove it doesn't mean you don't.
What Workplace bullying IS:
repeated and unreasonable behavior directed towards a worker that can lead to physical or psychological harm.
Repeated behavior occurs more than once and can involve a range of actions over time.
Unreasonable behavior means actions that a reasonable person in the same circumstances would see as unreasonable. It includes victimising, humiliating, intimidating or threatening a person.
Bullying may also include harassment, discrimination or violence
What is NOT Workplace bullying:
one-off or occasional instances of forgetfulness, rudeness or tactlessness
setting high performance standards
constructive feedback and legitimate advice or peer review
a manager requiring reasonable verbal or written work instructions to be carried out
warning or disciplining workers in line with the business or undertaking's code of conduct
a single incident of unreasonable behaviour
reasonable management actions delivered in a reasonable way
differences in opinion or personality clashes that do not escalate into bullying, harassment or violence.
We must be able to prove that the bully caused harm and also intended to cause harm on more than one occasion.
You will be expected to have kept records of the incidents and to have told someone else, preferably management.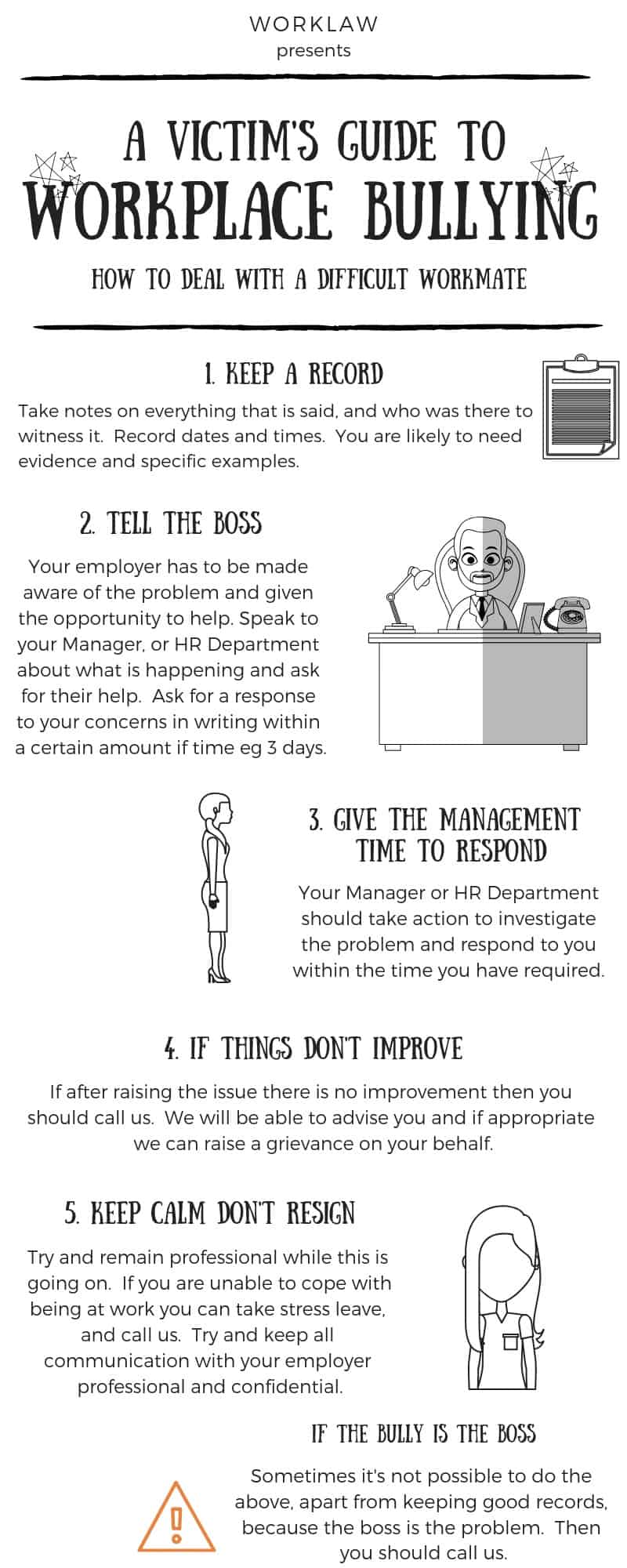 Bullying Formal Complaint Form
If the bullying is not an immediate threat to your health and you know your Employer is not yet aware of the situation you can use is form to raise a formal complaint:
Print this form and complete it.  Give it to your Manager, or to your HR Department.  This is to make sure your employer is aware of the bullying situation, and gives them the opportunity to respond.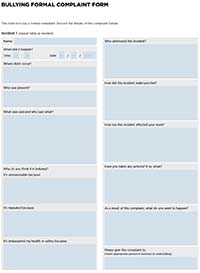 If you would like to talk to us about the situation, even if you haven't yet raised the issue with your Employer, please feel free to call us, we can help you decide what to do next, or if we can already step in on your behalf.
Please contact us on 0800 669 446 or use the contact form: